Excellent Eagle Emergency Dentist
Dental emergencies can happen to even the most careful individuals. At the practice of Dr. Paul Corcoran, we provide timely and exceptional care whenever a dental emergency happens. You can trust that our entire team is equipped and ready to handle your situation and provide you with the treatments you can rely on. We believe your family comes first at our dental office and work hard to ensure you are comfortable throughout your visit.
We know that situations with unknown outcomes, especially when it comes to your smile, can produce fear and anxiety in many people. Our team is highly skilled and experienced in helping alleviate any apprehension you may be feeling, offering sedation options and calming solutions.
We provide emergency dentist services and emergency tooth extraction in Eagle CO, Gypsum and our surrounding Eagle County communities. You can trust us to have the solutions needed to preserve or repair the beauty and function of your smile. If you're facing an emergency dentist situation, don't hesitate to give our office a call!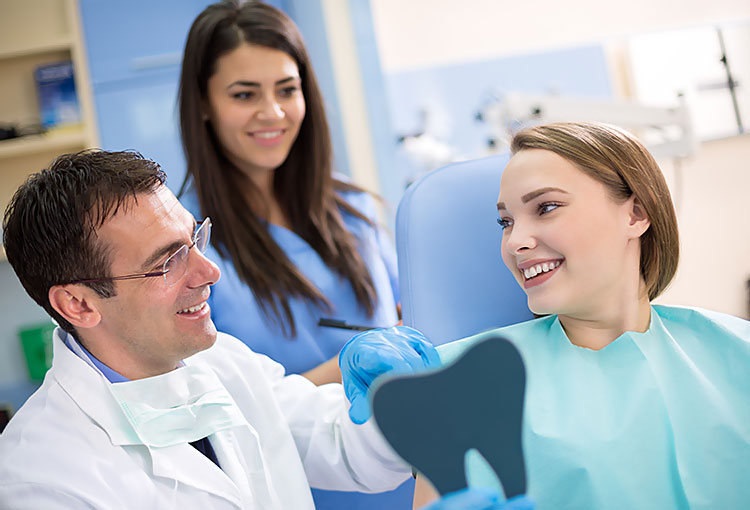 Types of Dental Emergencies
Dr. Corcoran has been treating dental emergencies for decades and is highly skilled in providing the care you can count on to improve your situation. A dental emergency can be anything that interferes with normal biting, chewing, or speaking, usually involving pain or discomfort. If left untreated, dental emergencies can often lead to more severe complications, resulting in tooth and bone loss, along with other more serious oral health issues. If you or a family member looking for a emergency dentist, please schedule an appointment with us right away. You can trust us to see you as soon as possible, and we will do everything we can to prevent further issues. Some common emergencies you may experience include:
Tooth Pain
Abscess
Damaged Filings
Cracked or Broken Teeth
Avulsed or Knocked-Out Teeth
Damaged or missing Dental Crowns
Loose Teeth
Emergency Dental Solutions in Eagle
Our staff knows that a dental emergency can happen at any time, day or night and you would need a emergency dentist. We work hard to see you as soon as possible, including after-hours should Dr. Corcoran determine the situation requires immediate treatment. If you have experienced an emergency, call our office, and our Eagle emergency dentist will get back to you.
We want to take care of you no matter if you have visited us before or you are calling us for the first time. You can count on our team to consistently treat you with care, compassion, and expertise. We have nitrous and oral conscious sedation options available for those who need them. Our emergency dentist can also bring in an anesthesiologist for those who want IV sedation. Should your situation be more complex, we partner with trusted local specialists to find you the relief you need.
Exemplary Dentistry, Extraordinary Results
Types of Emergency Dental Treatments
Regardless of the nature of the situation you are in, we offer the treatments you need to ensure the restoration of your smile and oral health. Some of the most common treatments include:
Root Canal Therapy– When an infection happens within the tooth, root canal therapy could be required to fix the problem. Once we remove the infected pulp, nerve tissue, and any decay from the inside of the tooth, we will add a crown to restore strength and function.
---
Extractions – If a tooth has become too badly damaged to save, extracting the tooth might be the only option to prevent an infection from spreading. Our goal is always to save your tooth, and we only perform extractions as a last resort.
---
Crowns & Bridges– Should you have a damaged or decayed tooth, we can place a crown over the affected area to save your tooth and restore the strength of your bite. If you're missing a tooth, a bridge may be the right solution for you. We use the surrounding healthy teeth as anchors to secure an artificial tooth in the gap, restoring your oral health.
Our team is dedicated to finding the solutions you need to restore the beauty and function of your smile. If there is a treatment we don't offer at our dental office, we will refer you to a trusted local specialist to ensure you receive the best care possible.
Your Expert Emergency Dentist in Eagle
An unexpected event like a dental emergency can cause significant amounts of stress and fear. We work hard to alleviate any anxiety you may be feeling with compassionate and exceptional care. Our team will do everything we can to minimize any pain, and we will take the time needed to thoroughly explain all of the possible treatment options available to you. We gladly accept many insurance plans and have solutions for those who are uninsured. You should never be without dental care and work with you to find the right option for your situation.
Dr. Corcoran and our team use their knowledge and expertise to give you back the healthy smile you deserve. You can always trust you're in good hands with us. Whether your family is in Eagle or one of our surrounding communities, we have the emergency dentist care you can trust and rely on. If you are in need of an emergency dentist, don't hesitate to contact our dental office today!
Exemplary Dentistry, Extraordinary Results
Get In Touch
We encourage you to contact us with any questions or comments you may have. Please call our office or use the quick contact form.
1185 Capitol St #104, Eagle, CO 81631