Paul Corcoran DDS
Family Dentist
Dr. Paul Corcoran is the oldest of seven children and grew up in Rockville, Maryland. He received his college and dental degrees from the University of Maryland and received Advanced Training in General Dentistry at UCLA Dental School. Dr. Corcoran practiced in Vail for over 40 years but has now opened a dental practice in Eagle, Colorado.
He has been a staff member at Vail Hospital since 1980 and has been teaching part-time at the University of Maryland Dental School as the Clinical Instructor for dental students since 2018.
Dr. Corcoran is very focused on serving patients. In addition to taking care of his dental patients in Eagle and Gypsum, he does charity Dentistry at the Mountain Family Health Center in Glenwood Springs. He and his wife, Jean enjoy exercise, reading, and donating to charity.
He is a member of the ADA and the Colorado Dental Association.
You can read more about Dr. Corcoran, and how he came to be a dentist, on his University of Maryland Alumni Profile here.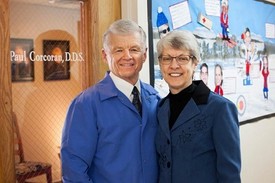 Get In Touch
We encourage you to contact us with any questions or comments you may have. Please call our office or use the quick contact form.
1185 Capitol St #104, Eagle, CO 81631